ASEAN Secretariat News, Sustainable Infrastructure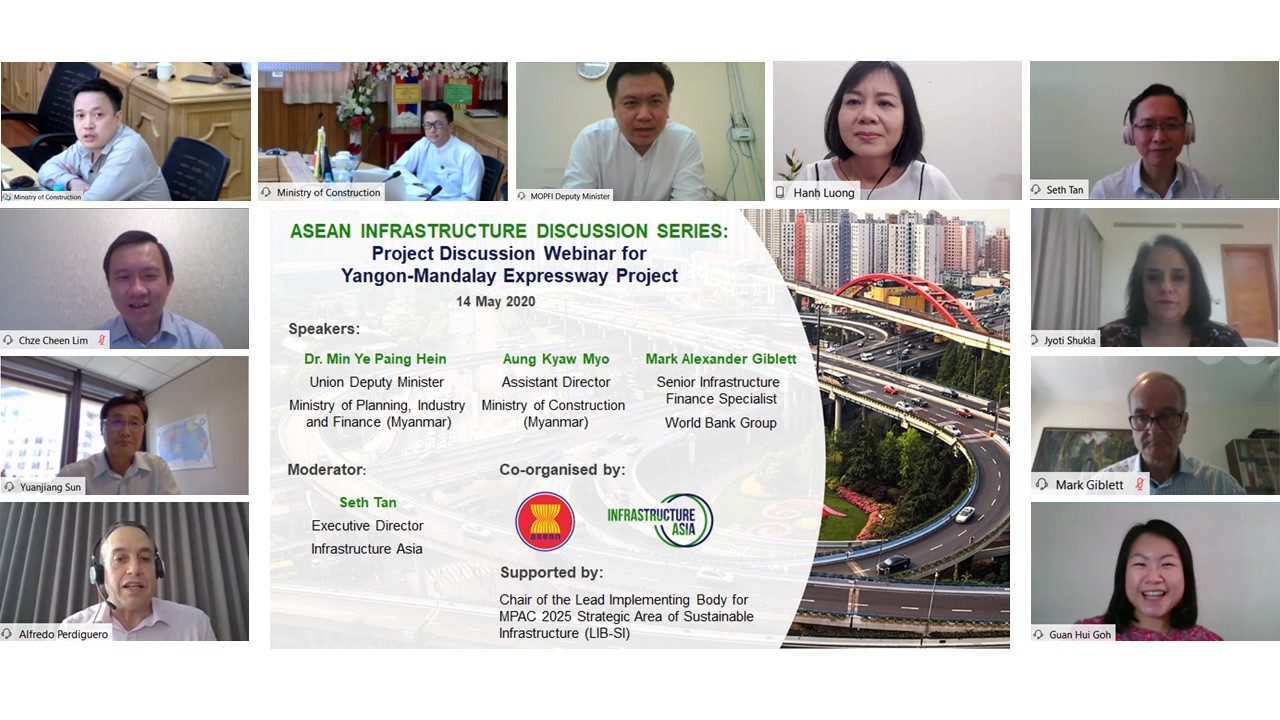 14 May 2020
ASEAN Secretariat, Infrastructure Asia hold inaugural ASEAN Infrastructure Discussion Series
JAKARTA, 14 May 2020 - The ASEAN Secretariat and Infrastructure Asia[1] launched the inaugural session of the ASEAN Infrastructure Discussion Series through a webinar.
Over 150 participants, including representatives from the ASEAN Member States, financiers, multilateral development banks, private investors, and other infrastructure solution providers, participated in the webinar held on 14 May.
The platform offers opportunities for dialogue on the initial pipeline of ASEAN infrastructure projects with the private sector. The key focus of the first session was on the Yangon-Mandalay Expressway project.
The Yangon-Mandalay Expressway project involves the upgrading, operation, and maintenance of a 588 kilometres expressway - one of the most important logistics and transport corridors of Myanmar. It is part of the North-South Economic Corridor and a key priority in the Myanmar National Transport Development Plan.
During the one-hour webinar session, representatives from the private sector shared their insight, experiences, and perspectives in structuring the project with the project owner, the Ministry of Construction (MOC) of Myanmar.
Deputy Director General of the Department of Highways, MOC of Myanmar Kyi Zaw Myint stated that the platform provided the private sector with an opportunity to learn about the project. The webinar helped to enhance our understanding, as the project owner, of what private firms are looking for when investing in connectivity projects in the region, he added.
The project is one of 19 infrastructure projects in digital, energy and transport sectors included in the Initial Pipeline of ASEAN Infrastructure Projects announced at the 24th ASEAN Coordinating Council Meeting in Bangkok, on 2 November 2019. Further discussions will be organised to address other projects.
# # #
Find out more about the Initial Pipeline:https://connectivity.asean.org/resource/booklets-on-the-approach-context-and-project-briefs-initial-pipeline-of-asean-infrastructure-projects/
---
[1] Infrastructure Asia is Singapores representative on the ASEAN Lead Implementing Body for Sustainable Infrastructure (LIB-SI) workstream
About ASEAN Secretariat
Established in 1976, the ASEAN Secretariats basic function is to provide for greater efficiency in the coordination of ASEAN organs and for more effective implementation of ASEAN projects and activities.
About Infrastructure Asia
Infrastructure Asia aims to support Asias social and economic growth through infrastructure development. Infrastructure Asia was established by Enterprise Singapore and Monetary Authority of Singapore to support infrastructure financing and development in the region. It does so through early project scoping, best practice sharing and brokering, harnessing Singapores best-in-class infrastructure ecosystem (international developers, engineering and professional services, along with financial institutions and multilateral development entities). It also works with global players in the regional infrastructure ecosystem and leverages the collective capabilities and networks of various government agencies to catalyse more trade and investments into infrastructure in the region.
For media enquiries, please contact:
The ASEAN Secretariat
70A Jalan Sisingamangaraja
Jakarta 12110, Indonesia
Phone: (62 21) 724-3372, 726-2991
E-mail:?connectivity@asean.org
Infrastructure Asia
Foo Xiao Xuan
Corporate Communications, Enterprise Singapore
DID: +65 6433 4400
Email:?foo_xiao_xuan@enterprisesg.gov.sg