Regional Efforts Related to ASEAN Connectivity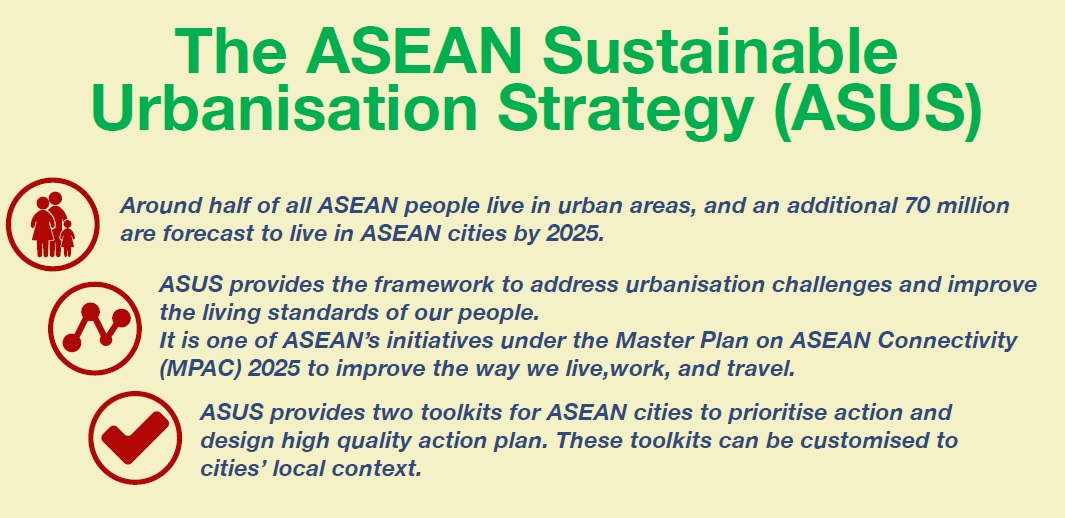 8 January 2020
INFOGRAPHIC: ASEAN Sustainable Urbanisation Strategy (ASUS)
Around half of all ASEAN people live in urban areas, and an additional 70 million are forecast to live in
ASEAN cities by 2025. ASUS provides the framework to address challenges associated with
urbanisation and improve the living standards of our people. ASUS is one of ASEAN's initiatives under the Master Plan on ASEAN Connectivity (MPAC) 2025 to improve the way we live, work, and travel.
The ASEAN Sustainable Urbanisation Strategy (ASUS) consists of seven priority sub-areas and eight priority actions identified based on the analysis of key trends impacting urbanisation in ASEAN and stocktake of existing actions related to sustainable urbanisation. As part of ASUS, two accompanying toolkits are also available to assist local governments in ASEAN to advance sustainable urbanisation in their cities. The first toolkit, aims to provide cities with a practical guide for how they can prioritise key sub-areas of sustainable urbanisation (and associated actions) on which to focus. The second toolkit, provides implementation templates for 8 priority actions that cities can then customise to their specific contexts.
Download this Infographic and the Publication to learn more about ASUS and its toolkits.